Experimentik #62
Sergio Sorrentino, JD Zazie, StØrfan Sender
3 x solo
Sergio Sorrentino – guitar and electronics
JD Zazie – playback devices
StØrfan Sender – hackbrett, electronics, microphones and folly instruments
StØrfan Sender: Artist with a day job and far too many interests. Sporting an improvisational and rather playful approach to electro-accoustic music.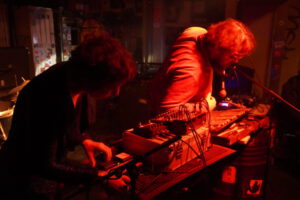 photo © oli.ver
JD Zazie is an experimental DJ, avant-turntablist, sound artist and curator based in Berlin.
Coming from a DJ and a radiophonic background JD Zazie has explored different approaches to real-time manipulation of fixed recorded sound. In her work she redefines DJ and electroacoustic activities. As a solo performer, in small groups, and in large ensembles, she works in an area which is constantly stretching the borders of what could be defined as DJ mixing, free improvisation and composed music. 
She is a member of Reanimation Orchestra, plays regularly solo and duos with Heidrun Schramm and with Henrik Munkeby Nørstebø.
She is the art director of the MuseRuole – women in experimental music festival, a member of the Burp Enterprise collective and broadcasts monthly on Colaboradio and on
Reboot.fm.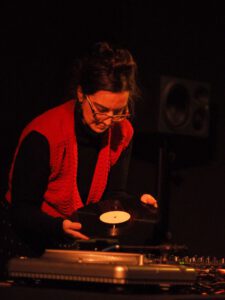 photo © Udo Siegfriedt
Sergio Sorrentino "A Superb Musician" (The Wire)
Sorrentino is acclaimed as "the best concert music electric guitarist" (Il Manifesto) and "one of the most important contemporary guitarists" (RAI Radio Tre).As a performer he promotes the classical guitar and electric guitar contemporary repertory. As a composer and improviser his music is based on sonic research and combines elements of contemporary classical music, minimalism, avant-garde, ambient, experimental. His CD Dream – American Music for Electric Guitar (Mode Records), which includes works by Feldman, Cage, Wolff, Curran and others, was reviewed and highlighted in the New York Times by Seth Colter Walls as one of the "Week's Best Classical Music Moments", defining the album "of disarming beauty".
Philip Glass published Sergio Sorrentino's video performance of "Orphée's Bedroom" and "Opening" on his official channels for the
#glassminutes
series. Orange Mountain Music released "Orphée's Bedroom" and "Opening" as Singles on all digital platforms earning a lot of success.
Sergio plays with the great Gavin Bryars ("Sergio Sorrentino has performed many of my works for guitar, and also my ensemble pieces that include the guitar and I have the greatest admiration for his work in this respect") as a member of the Gavin Bryars Ensemble and he plays live and in studio with Elliott Sharp, Magnus Andersson and John King.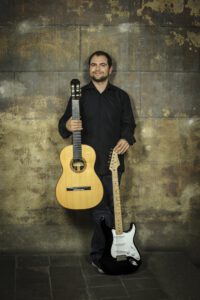 photo © Donatello Lorenzo
Experimentik 2023 is supported by inm
Einlass: 20 Uhr