Experimentik #64
Andrea Ermke + Annette Krebs / Mat Pogo
duo:
Andrea Ermke – Fieldrecordings, Mini Disks
Annette Krebs – Konstruktion#4
—–
solo:
Mat Pogo – Voice, Electronics
Andrea Ermke & Annette Krebs
Fieldrecordings, Mini Disks and Konstruktion
Andrea Ermke and Annette Krebs played together for the first time in 2000. Andrea Ermke has been playing fieldrecordings in conjunction with minidisc players and mixers since 1999, developing her own musical style. Annette Krebs played prepared electroacoustic guitar and 4-track recorders in the duo's initial phase in 1999, and has been developing the Konstruktion series since 2013. In the concert she will play the electroacoustic sound sculpture Konstruktion#4, which consists of pieces of metal, strings, objects, microphones, tablets and sensors.
In the duo's music, field recordings of nature sounds, crowds, or machine noises often cannot be clearly separated from the instrumentally played sounds, but they merge into hybrid-seeming, surreal soundscapes.
Since 2013 Annette Krebs has been developing and performing instrumental assemblages made of highly amplified metals, strings, objects and microphones. These assemblages "Konstruktion#1" to "Konstruktion#4" originally emerged from the need to realize sound visions that could not be played with traditional instruments and setups. Like through a microscope, microphones make audible the finest, otherwise inaudible sound shadings and colorations of the sound objects. The Konstruktion series unites analog and digital techniques and modes of playing. The signals of the manually played sound objects are controlled via tablets, transformed and musically collaged similar to different colors that flow into each other, blend or stay next to each other.
Annette Krebs has played numerous instruments since childhood and studied music in Frankfurt am Main. Before she began developing the Konstruktion series, she musically prepared and deconstructed her original instrument, the guitar, step by step.
She performs at concerts and festivals worldwide, released numerous CDs and streams, founded her own label Graphit and teaches and supports live electronics projects within Mikroklang.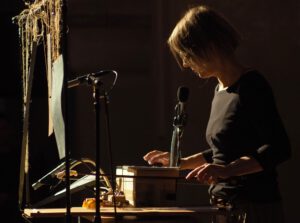 photo © Udo Siegfriedt
"Likewise I never heard of Andrea Ermke, who is from Berlin. She works with field recordings and sampling of 'hand-made sounds'. Her improvisational work is different from the usual things coming out of Berlin, as she isn't exactly 'onkyo'. The piece 'Pike' lasts almost nineteen minutes and is very upfront, very present in your space. Taking field recordings and feeding them through the sampler this is also a raw work, even when it is made more refined than Iovae's release. Shifting through loud passages as well as several softer spots, but at the same time it is also a bit too much to leave a fully satisfied impression." Frand de Waard – Vital Weekly
member of Sink (with Arthur Rother, Marcello Busato und Chris Abrahams), Tree (with Chris Abrahams und Burkhard Beins), CCA (with Christian Kesten und Chris Abrahams), Duo with Anaïs Tuerlinckx, Toggle (with Anaïs Tuerlinckx und Burkhard Beins), Quartett with Anaïs Tuerlinckx, Andrew Lafkas und Ignaz, Schick, Quartett with Anaïs Tuerlinckx, Andrew Lafkas und Bryan Eubanks
Mat Pogo is a vocalist, improviser, music producer, dj, graphic artist and cartoonist.
He has been an active voice on the european underground scene since the early '90s. He co-founded the multimedia collective Burp Enterprise and the music label and publishing house Burp Publications, the avant-garde pop band Jealousy Party and DJ collective Sistemi Audiofobici Burp.
Based in Berlin since 2006 he's been part of the improvised music, noise and avant rock scenes collaborating with many international artists in music, performance and dance fields. He performed in international festivals as a solo artist and ensembles. His work has been published by several international labels.
Current available projects are Jealousy Party, Voix Magnetiques and Peepholes, besides solo performances and activity as an improviser.
His language as a vocalist uses his experience as a rock singer, improviser and radio artist: music, sounds, anecdotic and narrative elements fuse in an expressive way and often with a delicate sense of humor.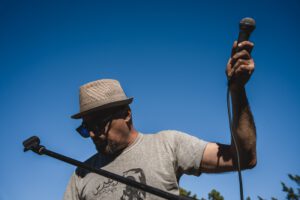 photo © Felix Bübl
Experimentik 2023 is supported by inm
Einlass: 20 Uhr